The Billboard Music Awards are back to recognize music's largest graph mattress toppers.
Fans and musicians commemorated one of the most paid attention to music of 2023 in an all-digital awards event on Sunday, offered to stream on BBMAs.watch.
The Billboards will certainly include efficiencies from giants like David Guetta and Bebe Rexha, Karol G, NewDenims, Morgan Wallen, Peso Pluma, Stray Kids and Tate McRae.
Mariah Carey will certainly likewise exist to serenade target markets with an unique performance of her vacation standard, "All I Want for Christmas Is You."
Along with the online acts, the Billboards will certainly give out prizes in 71 classifications.
Taylor Swift was the night's leading challenger, getting 20 responds while Morgan Wallen and SZA can be found in 2nd with 17 elections each.
Check out all the winners and candidates below: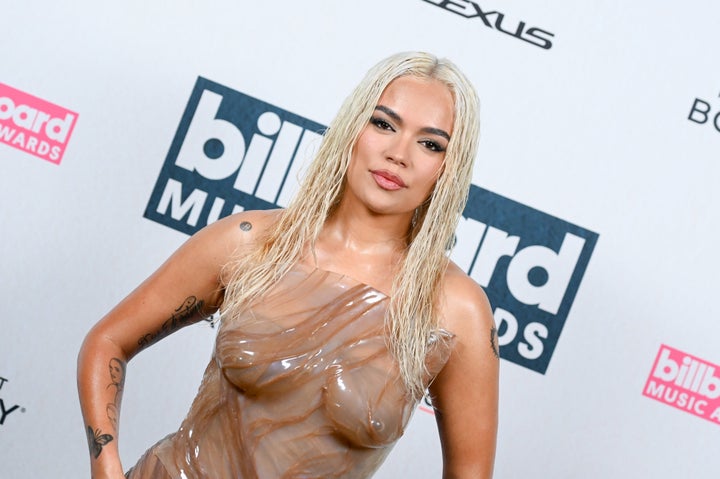 MUSICIAN AWARDS
Top Artist
Top New Artist
Top Male Artist
Top Female Artist
Top Duo/Group
Top Billboard 200 Artist
Top Hot 100 Artist
Top Hot 100 Songwriter (NEW)
Top Hot 100 Producer (NEW)
Top Streaming Songs Artist
Top Radio Songs Artist
Top Song Sales Artist
Top Billboard Global 200 Artist
Top Billboard Global (Excl. U.S.) Artist
Top R&B Artist
Top R&B Male Artist
Top R&B Female Artist
Top R&B Touring Artist
Top Rap Artist
Top Rap Male Artist
Top Rap Female Artist
Top Rap Touring Artist
Top Country Artist
Top Country Male Artist
Top Country Female Artist
Top Country Duo/Group
Top Country Touring Artist
Top Rock Artist
Top Rock Duo/Group (NEW)
Top Rock Touring Artist
Top Latin Artist
Top Latin Male Artist
Top Latin Female Artist
Top Latin Duo/Group
Top Latin Touring Artist
Top Global K-Pop Artist (NEW)
Top K-Pop Touring Artist (NEW)
Top Afrobeats Artist (NEW)
Top Dance/Electronic Artist
Top Christian Artist
Top Gospel Artist
CD AWARDS
Top Billboard 200 Album
Drake & 21 Savage, Her Loss
Metro Boomin, HEROES & VILLAINS
Morgan Wallen, One Thing at a Time
Top Soundtrack
VICTOR: Barbie: The Album
Black Panther: Wakanda Forever – Music From and Inspired By
Metro Boomin Presents Spider-Man: Across the Spider-Verse (Soundtrack From and Inspired by the Motion Picture)
Top R&B Album
Drake, Honestly, Nevermind
Steve Lacy, Gemini Rights
Top Rap Album
VICTOR: Drake & 21 Savage, Her Loss
Future, I Never Liked You
Metro Boomin, HEROES & VILLAINS
Top Country Album
Morgan Wallen, One Thing at a Time
Taylor Swift, Speak Now (Taylor's Version)
Zach Bryan, American Heartbreak
Top Rock Album
HARDY, the mockingbird & THE CROW
Jelly Roll, Whitsitt Chapel
Steve Lacy, Gemini Rights
VICTOR: Zach Bryan, American Heartbreak
Top Latin Album
VICTOR: Bad Bunny, Un Verano Sin Ti
Eslabon Armado, DESVELADO
Karol G, MAÑANA SERÁ BONITO
Top K-Pop Album (NEW)
NewDenims, second EP 'Get Up'
TOMORROW X WITH EACH OTHER, The Name Chapter: LURE
TWO TIMES, PREPARED TO BE: 12th Mini Album
Top Dance/Electronic Album
VICTOR: Beyoncé, RENAISSANCE
Drake, Honestly, Nevermind
Kim Petras, Feed the Beast
Top Christian Album
VICTOR: Anne Wilson, My Jesus
Brandon Lake, House of Miracles
Lauren Daigle, Lauren Daigle
Top Gospel Album
Jonathan McReynolds, My Truth
VICTOR: Maverick City Music x Kirk Franklin, Kingdom Book One
Tye Tribbett, All Things New
Whitney Houston, I Go to the Rock: The Gospel Music of Whitney Houston
Zacardi Cortez, Imprint (Live in Memphis)
TUNE AWARDS
Top Hot 100 Song
Metro Boomin, The Weeknd & 21 Savage, "Creepin'"
Morgan Wallen, "Last Night"
Taylor Swift, "Anti-Hero"
Top Streaming Song
Morgan Wallen, "Last Night"
Taylor Swift, "Anti-Hero"
Zach Bryan, "Something in the Orange"
Top Radio Song
Metro Boomin, The Weeknd & 21 Savage, "Creepin'"
VICTOR: Miley Cyrus, "Flowers"
Rema & Selena Gomez, "Calm Down"
Taylor Swift, "Anti-Hero"
The Weeknd & Ariana Grande "Die for You"
Top Selling Song
Jason Aldean, "Try That in a Small Town"
Oliver Anthony Music, "Rich Men North of Richmond"
Taylor Swift, "Anti-Hero"
Top Collaboration
David Guetta & Bebe Rexha, "I'm Good (Blue)"
VICTOR: Metro Boomin, The Weeknd & 21 Savage, "Creepin'"
Rema & Selena Gomez, "Calm Down"
Sam Smith & Kim Petras, "Unholy"
The Weeknd & Ariana Grande, "Die for You"
Top Billboard Global 200 Song
VICTOR: Miley Cyrus, "Flowers"
Rema & Selena Gomez, "Calm Down"
Taylor Swift, "Anti-Hero"
The Weeknd & Ariana Grande, "Die for You"
Top Billboard Global (Excl. U.S.) Song
David Guetta & Bebe Rexha, "I'm Good (Blue)"
Harry Styles, "As It Was"
VICTOR: Miley Cyrus, "Flowers"
Rema & Selena Gomez, "Calm Down"
The Weeknd & Ariana Grande, "Die for You"
Top R&B Song
Metro Boomin, The Weeknd & 21 Savage, "Creepin'"
The Weeknd & Ariana Grande, "Die for You"
Top Rap Song
VICTOR: Drake & 21 Savage, "Rich Flex"
Lil Durk ft. J. Cole, "All My Life"
Top Country Song
Bailey Zimmerman, "Rock and a Hard Place"
Morgan Wallen, "Last Night"
Morgan Wallen, "You Proof"
Zach Bryan, "Something in the Orange"
Top Rock Song
Jelly Roll, "Need A Favor"
Stephen Sanchez, "Until I Found You"
Zach Bryan ft. Kacey Musgraves, "I Remember Everything"
VICTOR: Zach Bryan, "Something in the Orange"
Top Latin Song
Eslabon Armado x Peso Pluma, "Ella Baila Sola"
Fuerza Regida x Grupo Frontera, "Bebe Dame"
Grupo Frontera x Bad Bunny, "un x100to"
Yng Lvcas x Peso Pluma, "La Bebe"
Top Global K-Pop Song (NEW)
Jungkook ft. Latto, "Seven"
Top Afrobeats Song (NEW)
VICTOR: Rema & Selena Gomez, "Calm Down"
Victony, Rema, & Tempoe ft. Don Toliver, "Soweto"
Top Dance/Electronic Song
Bizarrap & Shakira, "Shakira: Bzrp Music Sessions, Vol. 53"
David Guetta, Anne-Marie & Coi Leray, "Baby Don't Hurt Me"
VICTOR: David Guetta & Bebe Rexha, "I'm Good (Blue)"
Elton John & Britney Spears, "Hold Me Closer"
Tiësto ft. Tate McRae, "10:35"
Top Christian Song
VICTOR: Brandon Lake, "Gratitude"
Chris Tomlin, "Holy Forever"
for KING & NATION with Jordin Sparks, "Love Me Like I Am"
Lauren Daigle, "Thank God I Do"
Phil Wickham, "This Is Our God"
Top Gospel Song
VICTOR: CeCe Winans, "Goodness of God"
Crowder & Dante Bowe ft. Maverick City Music, "God Really Loves Us"
Elevation Worship ft. Chandler Moore & Tiffany Hudson, "More Than Able"
Maverick City Music & Kirk Franklin ft. Brandon Lake & Chandler Moore, "Fear is Not My Future"
Zacardi Cortez, "Lord Do It for Me (Live in Memphis)"